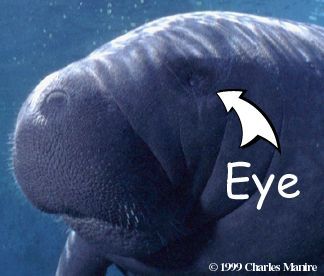 Even though the manatee is an endangered animal, little has been done to investigate its sensory systems. Previous reports of manatee vision have differed from each other. The anatomy of the visual system suggests that the manatees see poorly, but manatees in the wild generally don't behave as if they are nearly blind. The next logical step was to test manatees behaviorally in an experimental situation to ascertain their visual acuity directly.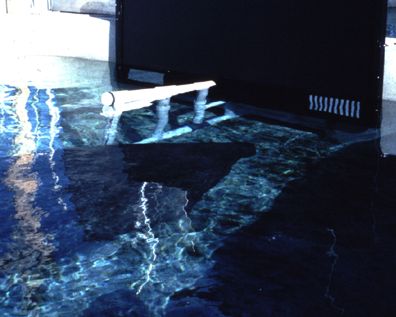 A permit was applied for and granted by US Fish and Wildlife (Permit # PRT-837923) to test Hugh and Buffett's visual acuity by means of a discrimination task. A series of targets were presented to each manatee, two at a time. One target, called the standard, had very fine lines of only 1 mm each. This target was always the wrong answer. The other targets had larger lines that varied in width. Both manatees were trained to go to the target with the wider stripes, or to avoid the standard target with the very narrow stripes. The decision had to be made from at least 1 meter away. When the manatees were no longer able to determine the difference between the correct target and the standard, we applied a formula to determine the Minimum Angle of Resolution (MAR) of the manatee's acuity. That is, we determined how well the manatee is able to see.
Can you tell which target has the wider stripes?
How about with these two?
Yes, these two examples are pretty easy, and they don't control differences in brightness like Hugh and Buffett's targets do, but think about what it would be like to try this under water from a distance of one meter or more.
Here is a chart demonstrating the visual acuity of various animals as compared to the range we investigated with Hugh and Buffett. Findings suggest that the manatee's vision is poor and is not likely to be their primary sense.