Got A Question? Ask A Manatee Trainer!
The Jane and David Allen Manatee Exhibit
Visit the Sponsors Hall of Fame !
You can visit Hugh and Buffett at the Jane and David Allen Manatee Exhibit (directions). Hugh and Buffett were born in captivity and moved to Mote Marine Laboratory in Sarasota, FL in 1996. These two West Indian Manatees together weigh in at more than 3,000 pounds - heavier than an automobile!
Become immersed in their aquatic world!
Visitors experience the 70,000-gallon exhibit through four 6' by 10' underwater viewing windows, and can hear the animals' vocalizations and other sounds of their world through Mote's first-of-its-kind live hydrophone system.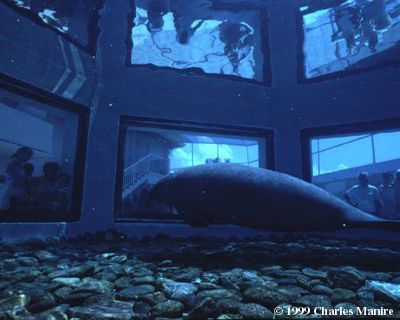 Click Here for the latest Animal Care Newsletter!