How does a manatee see?
Manatee eyes are small even though they are big animals. They do not have eyelids or eyelashes like we do. Instead they have muscles surrounding the eye that constrict until it closes. This is called a sphincter muscle. To see how this works, make the "OK" sign with your finger and thumb so it makes a big "O". Then make the "O" smaller and smaller by bringing the tip of your finger to the base of your thumb.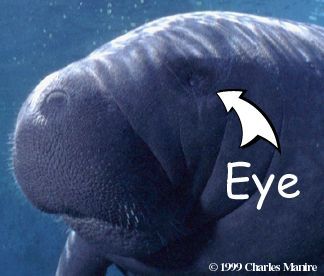 How does a manatee breathe?
Manatees are mammals, just like us. This means they need to breathe air and cannot breathe underwater like a fish. Manatees have two nostrils like us, only the manatee nostrils have muscular flaps that they keep closed whenever they aren't taking a breath. Manatees usually breathe once every two to three minutes, but they can go as long as twenty minutes when they are resting! When manatees breathe, they only bring their nostrils out of the water.
How does a manatee eat?
Manatees have very flexible lips which are covered with whiskers of different sizes called vibrissae. These lips are strong enough to pull food into their mouths, like fingers!
What do manatees use their flippers for?
Manatee flippers, also called pectoral flippers, are used to grab things, or to help them steer in the water. Even though a flipper doesn't look much like a human arm and hand, the bone structure inside is just like ours. Manatees even have fingernails!
How does a manatee swim?
Manatees are marine mammals, just like whales and dolphins. The manatee tail, called a paddle, doesn't look like a dolphin's tail, called flukes. Both paddles and flukes are used for locomotion through the water by moving them up and down.
How does a manatee hear?
Manatees don't have flaps on the outside of their heads (called external pinnae) like humans, dogs, cats, and lots of other animals do. That doesn't mean that they don't have ears or can't hear. Manatees have a pinhole on each side of their head that looks like a small dimple. Even though they don't have big ears, they hear very well and can even hear higher-frequency sounds than we can.