---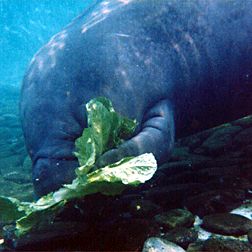 Mote Marine Laboratory is a nonprofit organization. This means that we rely on (tax-deductible) donations from people like you to cover the costs associated with caring for Hugh and Buffett. In 1999, the manatee's food bill alone was in excess of $35,000.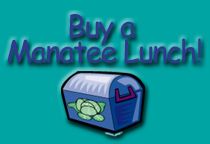 You can help support Hugh and Buffett by purchasing a "manatee lunch". Your tax-deductible donation of $50 will buy one day's worth of food for one of the manatees! This is a great opportunity for individuals, school groups, and civic organizations to support Mote Marine Laboratory and the manatees.
If you would like to buy a lunch for Hugh and/or Buffett, please submit this form. (Don't forget to come back here when you're done by closing the "Buy a Manatee Lunch" window. This window will still be here.) In return, you will receive a certificate of appreciation from Mote with a Hugh and Buffett sticker! In addition, if you so desire, your name/organization will be displayed on this website.
Mote Marine Laboratory is a 501(c)3 non-profit corporation. Your donation is tax-deductible.