---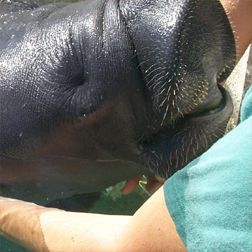 Support Hugh and Buffett's Research
If you would like to specifically support the research being conducted with Hugh and Buffett, please submit this form. (Don't forget to come back here when you're done by closing the "Support Manatee Research" window. This window will still be here.) In return, you will receive a certificate of appreciation from Mote with a Hugh and Buffett sticker! In addition, if you so desire, your name/organization will be displayed on this website.
Support all of Mote's Research
You can support all of the research conducted at Mote Marine Laboratory by becoming a Member of Mote. (Again, don't forget to come back here by closing the Membership window when you're done.)
Mote Marine Laboratory is a 501(c)3 non-profit corporation. Your donation is tax-deductible.